Albuquerque Area Resources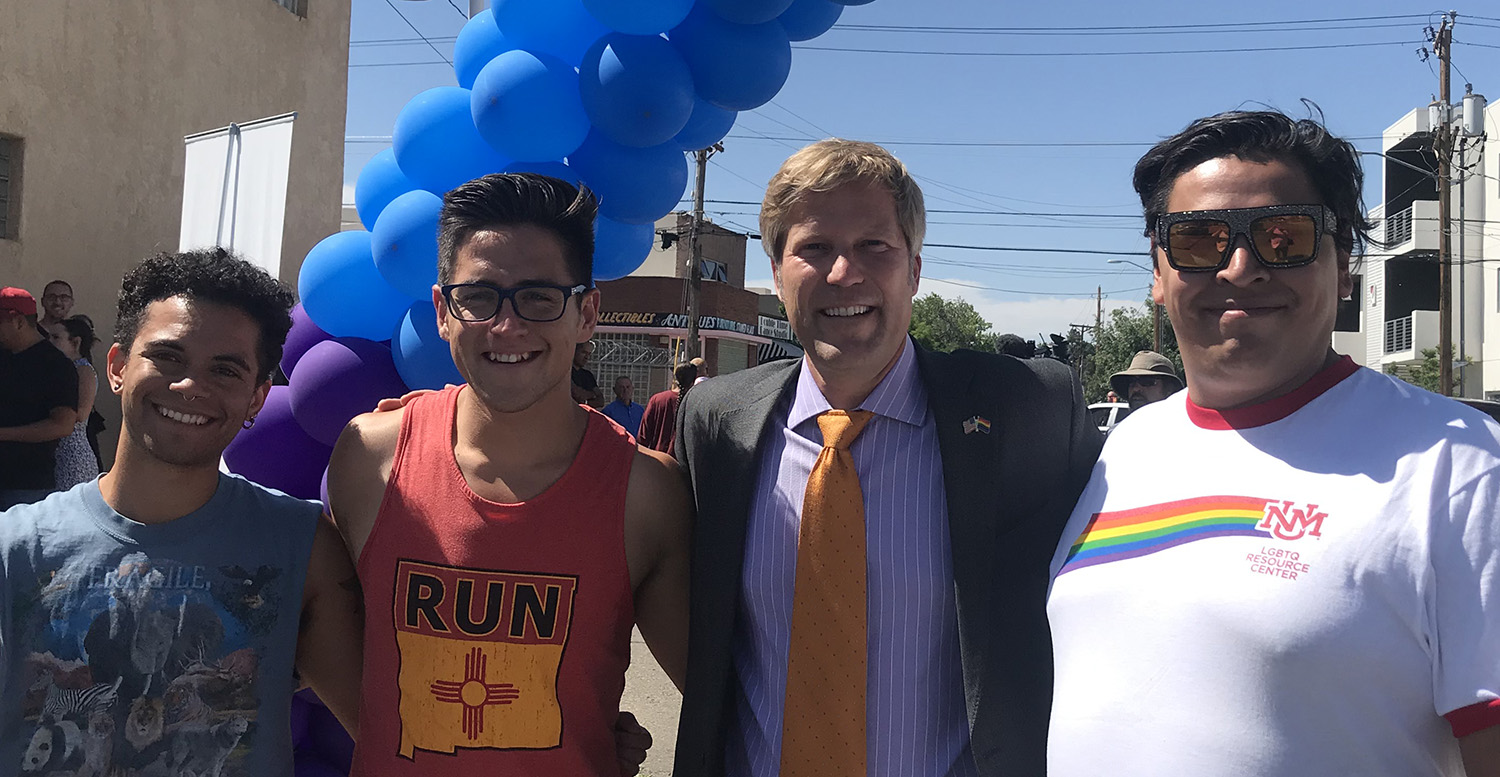 PFLAG Albuquerque
PFLAG is a national organization that promotes the health and well-being of lesbian, gay, bisexual and transgender persons, as well as their families and friends. PFLAG provides opportunity for dialogue about sexual orientation and gender identity, and acts to create a society that is healthy and respectful of human diversity. The Albuquerque chapter of PFLAG meets the third Tuesday of every month from 7:00-9:30 pm at the First Congregational Church, 2801 Lomas Blvd NE, on the corner of Lomas and Girard.
Agora Crisis Center
The Agora Crisis Center provides trained peer counselors available over the phone to provide compassionate, non-judgmental listening for anything you want to discuss. Agora also provides a helpful referral service of agencies and individuals around New Mexico.
Transgender Resource Center of New Mexico
The Transgender Resource Center of New Mexico is being established in order to provide support, education, information, and assistance to the transgender population in the state of New Mexico and their families and loved ones.
Equality New Mexico (EQNM)
Equality New Mexico is a statewide education and advocacy organization that works for full recognition of lesbian, gay, bisexual, and transgender civil rights. EQNM works throughout the state to end discrimination, shape public opinion and policy, as well as strengthen our alliances with local, regional, and national partners. The organization is based in Albuquerque and has many volunteer opportunities for LGBTQ individuals and allies.
Albuquerque U21
U21 is a safe space for youth and is open to lesbian, gay, bisexual, transgender, intersex, queer, and questioning youth under 21 and their allies under 21. It is largely a social time with some planned events and sessions, such as arts & crafts, poetry, information on the community, films, dances, workshops, field trips, etc. There are trained adults there to facilitate the group and assist as needed.
U21 meets every Friday night from 7:00 to 9:30 at the Metropolitan Community Church, 1101 Texas NE. It meets in the main room 1 block north of Lomas and 4 blocks west of Wyoming. Park on the north side of the building in the parking lot or on the street – do not park in the lot to the south of the church
MPower
This community-level intervention is for young gay/bisexual/questioning men and transgender individuals of diverse backgrounds. It mobilizes the community to reduce sexual risk taking, encourages regular HIV testing, builds positive social connections and supports peers to have safer sex. In other words, MPower is a non-traditional HIV education and prevention program.
New Mexico AIDS Services
New Mexico AIDS Services works to enhance the quality of life for people and communities affected by HIV/AIDS through innovative and comprehensive services, support and prevention education. New Mexico AIDS Services offers free and anonymous HIV testing, as well as free and confidential screenings for Syphilis and Hepatitis. New Mexico AIDS Services is located at 625 Truman NE, near the intersection of Lomas and San Mateo.
Bold Futures
Bold Futures leads policy change, research, place-based organizing, and culture shift by and for women and people of color in New Mexico. Bold Futures centers the lived experiences and expertise of those most impacted by an issue, engaging with people at the intersection of their identities. We work to build communities where all have what we need to make real decisions about our own bodies and lives, and all have room to live with respect and dignity.
Strong Families NM / Forward Together
We envision a country where we are all at home. A world where we take care of each other, respect each other, and where everyone is better off. Where we recognize the shared leadership and sacrifice of people of color, women, immigrants, LGBTQ and Indigenous people in building this country. When we join together and fight for every single one of us, we can build a nation that works for all of us — a world where all families have the rights, recognition and resources they need to thrive free from oppression. Forward Together unites communities to win rights, recognition and resources for all families. We transform culture and policy to work for all of us nationwide. Since our founding in 1989, we have continually fought to dismantle the ways our society marginalizes us based on race, sexuality, and gender. Today, we build courage and foster connection among our multi-racial community of changemakers to secure the rights, recognition and resources all families need to thrive.
Asian Family Center
We provide culturally sensitive programs and services creating a Pan-Asian community that advocates for and supports itself. We believe that we are stronger together, and that everyone should have access to culturally tailored care. If you or anyone you know needs support, our trained staff members are multilingual in languages such as Mandarin, Cantonese, Vietnamese, Japanese, Urdu, Dari, and Farsi. For other languages, we bring in trained community interpreters or utilize phone interpretation so that you can receive the best care in the language you are most comfortable.
Enlace Comunitario
Somos una organización de base sin fines de lucro que provee servicios directos en español para víctimas de violencia doméstica y aboga por los derechos de los inmigrantes latinos y sus hijos. Nuestra implementacion de servicios integrales incluye:, asistencia social individualizada, consejería individual y grupal para adultos y niños, servicios legales, educacion comunitaria, desarrollo de liderazgo y organizacion comunitaria para cambiar politicas. La vision de Enlace Comunitario es que los inmigrantes sean una fuerza colectiva, consciente, poderosa y libre para crear familias y comunidades sanas, sin violencia, donde haya justicis y derechos humanos para todos. We are a non-profit community-based organization that provides direct services to Spanish-speaking victims of domestic violence and advocates for the rights of Latino immigrants and their children. Our holistic approach includes counseling, legal services, community education, leadership development and organizing to impact system change. The vision of Enlace Comunitario is that immigrants are a collective, conscious, and powerful force, free to create healthy and violence free families, where there is justice and human rights for all.
El Centro de Igualdad y Derechos
We believe in the power of collective action! Our members are the reason why El CENTRO has been successful in fighting for immigrants' rights and workers' justice in Albuquerque. Our organizing work gives voice to hundreds of low-income immigrant workers in Albuquerque, builds community, and leads to public policy gains. El CENTRO utilizes multiple strategies to impact social change including community organizing, leadership development, policy advocacy, strategic communications, and civic engagement in order to advance the rights of the Latino immigrant community and low-wage workers and families in Albuquerque.
NM Office of African American Affairs
A "go-to" authority in New Mexico on mattters relating to methods that improve the quality of life for African Americans.
Rape Crisis Center
We provide support and advocacy to survivors of sexual assault and abuse within Central New Mexico, and serve as a community resource on issues regarding     prevention and awareness of sexual violence. Crisis intervention and advocacy services 24 hours a day, Professional counseling for survivors and loved ones, In-service training, Community education, Community organizing
Albuquerque Sane
The Albuquerque SANE (Sexual Assault Nurse Examiners) Collaborative serves sexual assault and domestic violence victims by providing immediate, compassionate, culturally sensitive, and comprehensive medical treatment and forensic evaluation by nurse experts. We provide victims of sexual assault and domestic violence care in an empowering setting that addresses emotional and medical needs. All care is comprehensive, timely and patient centered. Our services are always confidential and free and available 24 hours a day.